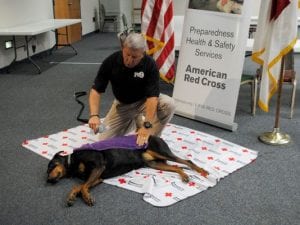 The Tennessean – American Red Cross, Nashville K-9 teach pet first aid
American Red Cross is providing first aid training for loved ones — of the four-legged, furry variety.
Nashville K-9 will teach pet first aid Tuesday, demonstrating how to respond to health emergencies and provide some basic first aid for pups.
Attendees will learn how to perform CPR on dogs, treat cuts and scrapes, administer medication and more.
The class is 5:30-8:30 p.m. at American Red Cross of Nashville, 2201 Charlotte Ave. Tickets are $75. Register at 615-438-2602 or petfirstaid@nashvillek9.com.