Williamson County Gets Electronic-Sniffing K-9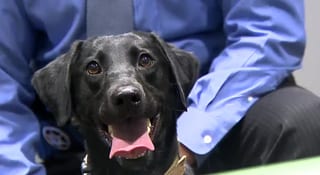 FRANKLIN, Tenn. – There are bomb-sniffing dogs, drug-sniffing dogs, and law enforcement in Williamson County recently added an electronics-sniffing dog named Remi.
In law enforcement, child pornography and crimes surrounding it are seen as a world-wide epidemic.
"It happens in every country, every state, every county, every city," Detective Lee Eaves of the Williamson County Sheriff's Office said.
The files are stored on memory cards, flash drives, and many other devices, and while law enforcement can find a lot of those devices through their searches, sometimes they need help, and that's where 2-year-old Remi comes in.
Remi is the newest K-9 in Williamson County, and she has no trouble tracking those electronics down. She's been trained to sniff out a special adhesive and flame-retardant chemical used on electronics, and she's the first K-9 in Tennessee law enforcement that has been trained to do so.
Remi was donated to the Williamson County Sheriff's Office by Nashville K-9, a group that trains hundreds of police dogs every year, and they say dogs have skills that humans can't possess.
"You can I can smell a burger cooking," Ali Hemyari of Nashville K-9 explained, "She can smell the different layers, like the lettuce, the tomato, the cheese, the poppy seeds."
That means Remi can assist in any investigation where law enforcement is looking for electronics, which includes looking for cell phones in jail cells.
"We've had others that have asked already if they can use it when they have a search warrant and are doing these types of cases," Sheriff Jeff Long said. "It's just another tool that we're going to be able to use for our citizens in our community to fight crime here locally."
Beyond a trained sense-of-smell, Remi is also a very loving dog who will eventually be trained for emotional support.
"A lot of times when we do these child exploitation warrants and we're out there at these homes, there are children there, and having her there to comfort those children that are in need is very important," Eaves said.
Remi hasn't been sent out in the field for an official Williamson County Sheriff's Office mission yet, but Eaves said she's ready to go when the occasion arises.