Nashville K-9 trainers donate $15,000 deputy to WCSO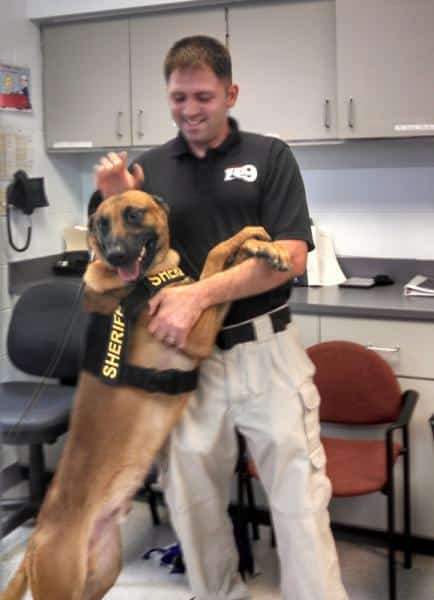 Deputy Ammo is the newest addition to the Williamson County Sheriff's Office K-9 division.
The 21-month-old Belgian Shepherd was introduced to the Williamson County Commission Monday night after commissioners approved training company Nashville K-9 to donate the dog to the sheriff's department.
Former Deputy Cash, a German Shepherd for WCSO, retired in February at 7 years old for health reasons, having had two operations on his back.
WCSO has two other K-9 deputies. Gunner was brought on in 2008 and Lexer joined in 2009.
Nasvhille K-9 heard Williamson County law enforcement was one dog short and decided to donate Ammo, valued at $15,000.
"It tugged on our heartstrings," said Nashville K-9 VIP training director Ali Hemyari.
Hemyari works with the Millersville Police reserve and has trained dogs for over 10 years. Ammo has trained with him since the dog was 8 months old.
"Narcotics training is the simplest. It takes 2-4 weeks," Hemyari said. Obedience and handler protection training is a process beginning when the dog is 4 months old until the dog is about 2 years old.
Ammo has been trained in gun ranges, large crowds and on slick floors to withstand trying environments. He takes commands in a combination of three foreign languages.
The K-9 can already track and locate marijuana and cocaine and will learn to identify methamphetamine, crack, heroin and ecstasy.
Hemyari said Belgian Shepherds, which is the same K-9 breed involved in the tracking of Osama bin Laden, have a short coat ideal for Tennessee's climate, and they have more energy and smaller stature than German Shepherds.
Williamson County law enforcement introduced a K-9 division in 2003. Ammo is in the department's third class of dogs; WCSO has had six dogs since the division's induction.
WCSO typically purchases their K-9 dogs from European breeders. County law enforcement works with the Franklin Police Department and trains their working dogs onsite.
K-9 units are certified with the US Police Canine Association. Dogs must be recertified once a year in narcotics and "bite work" training, or learning to bite on command.
WCSO Cpl. Debbie Rogers said K-9s are most frequently used for drug-related calls like school searches and traffic stops, though they are used for like the recent search for Nolensville teenager Christopher Smithburg, who was missing for six days.
Rogers said K-9s have aided in several large busts, helping the department locate hundreds of pounds of narcotics and thousands in drug money.
Activity depends; dogs can sometimes go a week without seeing any action, Rogers said.
Unlike other working dogs, K-9s can be petted and played with by people other than their handlers, but in nonworking environments.
There is no central kennel for K-9s, so Ammo will live with his new partner, Cpl. Keith Bennett. Bennett has two other dogs at home, so there will be several new adjustments for Ammo.
Hemyari and Rogers estimated it will take Ammo and Bennett about eight to 12 weeks to become fully adjusted working partners.
"Bennett will spend a week doing nothing but feeding, petting and loving the dog to say, 'I have your back' before getting into commands. The dog will never forget his original handlers though," Rogers said.
Bennett, who has worked with WCSO since 2009, volunteered to be a K-9 handler. A corporal at present, he may become a deputy to take on this new role.
"I'm ready to get started," Bennett said. "I've had animals all my life from reptiles to dogs to horses. This is the one job in law enforcement where what you put into it shows with training. Whatever I put in with him it shows."
Jessica Pace covers Williamson County, Williamson County Schools and the Town of Nolensville for BrentWord Communications. Contact her at jess@brentwoodhomepage.com or follow her on Twitter @Jess_Marie_Pace.