The Tennessean – K-9 deputy Ammo joins Williamson County Sheriff's Office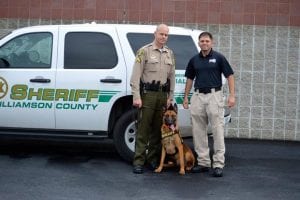 The Williamson County Sheriff's Office introduced its new K-9 deputy, Ammo, at Monday night's commission meeting.
The fully-trained 21-month-old Belgian Malinois shepherd, valued at $15,000, was donated to the department by Nashville K-9 LLC. Ammo's new partner is Cpl. Keith Bennett, and the pair will train together for a few weeks to certify with the United States Police Canine Association.
Ammo has been trained to a high level of obedience, tracking, narcotics detection, suspect apprehension and handler protection.