COVID-fighting Tennessee police officer home after long stay in South Florida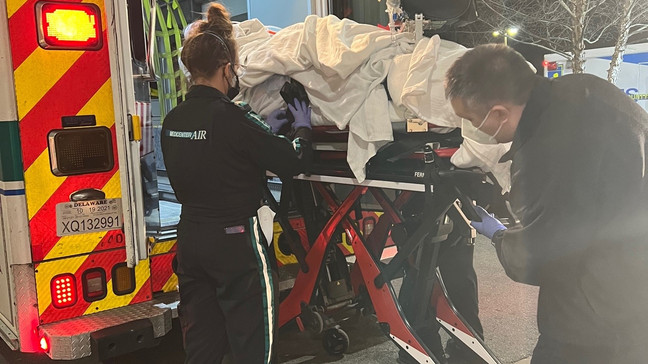 A Tennessee police officer who's been battling a nearly fatal case of COVID in South Florida is finally home tonight. Today has been nearly four months in the making for Officer Sean Finn, his wife Lauren, and their daughters Reagan and Caroline.
"Surreal, surreal to go home. I'm so ready to see my daughters," Sean Finn said in an interview with CBS12 News Wednesday from his Intensive Care Unit room at JFK Hospital in Atlantis.
COVID almost killed the Franklin, Tennessee police officer who was flown to South Florida from Nashville because JFK was the closest facility that had a life-saving ECMO machine available. It's a last resort for COVID patients which literally breathes for them so their lungs can heal.
Sean was on the machine for 81 days.
"I've been blessed to recover as quickly as I have. It was not expected by me, and you can ask any of the doctors or nurses. They didn't expect me to recover as quickly or if I would at all," he said.
Once doctors finally removed his breathing tube, the only thing keeping him here was the insurance company wouldn't pay for an expensive private flight home. That's where our CBS12 News viewers came into the story.
"The interview we did with you last time reached a lot of people. A lot of amazing people. We had to turn people away," he said.
Franklin based Nashville K9 is one of the organizations who answered the call.
"We collaborated and made some phone calls and coordinated the pick up of officer Sean Finn," said Nashville K9 owner Ali Hemyari and fellow police officer in an Zoom interview. "We wanted to take care of our own here too. He's a father, I'm a father. He's a husband, I'm a husband and that really struck a chord with us and how do we facilitate bringing him back."
Secure Air Charter also helped with the flight.
Wednesday morning, Sean walked out of the hospital under his own power, greeted by his brothers and sisters in blue.
Next stop: Palm Beach International in a ride provided by Team South Florida and Five Star Transportation.
Escorted by local police agencies, including the West Palm Beach Police Department.
"When we saw the original story, Officer Finn is in the same position as one of our officers (Tony Testa) who was transported to Cleveland, Ohio for ECMO treatment," said West Palm Beach police union president Sgt. Adam Myers in an interview from the tarmac with CBS12 News.
Officer Tony Testa went to Ohio because that's where the closest available ECMO was. He died in September.
West Palm PD wanted to make sure Officer Finn knew he wasn't alone here.
"The brotherhood to know that 1,000 miles from home he has a support network with him," Myers said.
The Finns landed in Nashville Wednesday afternoon, greeted by their friends, family, and local law enforcement. Local media asked him what it was like to finally be home.
"I've had so much support and it's truly amazing to be coming home. It's just little old me and everybody's here for just me. Doesn't seem like it's real," he said.
Finn has about 25 percent lung function currently. He will have to go to outpatient therapy. He is officially a COVID long hauler.
He's plans on returning to work as a police officer but he's not sure if he will ever go back to working on the street.